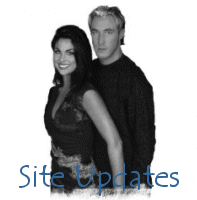 February 16 2002:

Thirteen new pictures for both Kyle and Nadia.
February 10 2002:

Added some news and spoilers.
I'll try for another update tonight.
February 7 2002:

Added pictures of the ice skating to the gallery.
I'll have more updates this weekend.
January 26 2002:

Added 34 new songs to the list. Yes, that's right, I said 34. This is what happens when people suggest and you put it off for a long time.
January 18 2002:

Added pictures to Nadia, Kyle, Broe, Broe w/ others, and the catacombs and Christmas galleries.
Site design is now finished. What do you think?
I'll have more moments to add within the week.
January 15 2002:
As you can see, the site is going through some changes, so give me time to go through and redo every single page. I'll try and be done by this time next week, thanks!
This site is Copyright © 2001. It is in no way whatsoever affiliated with Kyle Lowder, Nadia Bjorlin, Days of Our Lives, or NBC. It is meant for pure entertainment.